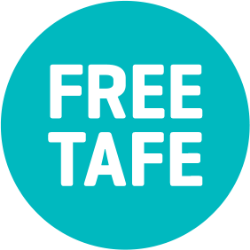 Award Course
This training is delivered with Victorian and Commonwealth Government funding
Overview
This qualification reflects the role of those who work in youth and family intervention, including practice specialisations in residential and out of home care, family support and early intervention. Workers operate under a broad supervision framework and within clearly defined organisational guidelines, service plans and position specifications.
Careers
Great pathway into the Diploma of Community Services.
Course Delivery
Students meet with assessor for 2-3 hours every 4 weeks at SuniTAFE Mildura campus. Both campuses offer on the job, Traineeships: Duration is 12 month's duration – Enrolment can occur for February to December. This course is currently in transition; the course code, title, units and content may change in the future and further information will be provided upon enrolment and/or during the course of your training.
Entry Requirements
Student intake criteria is for MDAS and MASP employees only. Each student will undertake a Pre-Training Review before enrolling to help confirm the proposed course is suitable. It will provide valuable information about an individual's existing skills and knowledge, language, literacy and numeracy skills, and whether the course will help in achieving learning and/or employment goals.
Expected Time to Complete
12 Months