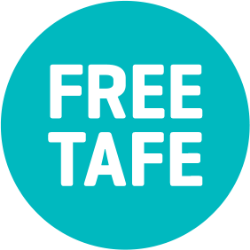 Award Course
This training is delivered with Victorian and Commonwealth Government funding
Overview
This qualification reflects the many roles of community services, case management and counsellors who are involved in working, managing, coordinating and/or delivering of person centres services to individuals, groups and communities. At this level, workers have specialised skills in community services and work autonomously under broad directions from senior management. Workers may also have responsibility for the supervision of other workers and volunteers and/or case management; program coordination or the development of new social welfare program opportunities.
Careers
Case worker and case management, community worker, welfare worker, family support worker, alcohol and other drugs (AOD) worker, housing worker, youth worker, mental health worker, NDIS support coordinator, multicultural Support, School Wellbeing Officer.
Pathways
Please contact SuniTAFE to discuss other qualifications that can extend your skills further.
Course Delivery
Classroom based delivery.
Entry Requirements
Each student will undertake a Pre-Training Review before enrolling to help confirm if the proposed course is suitable. It will provide valuable information about an individual's existing skills and knowledge, language, literacy and numeracy skills and whether the course will help in achieving learning and/or employment goals. Students must be 18 years at commencement of study and provide a Working with Children Check. Students must be willing to obtain an NDIS Worker Screening Check, which will include a criminal history check, prior to practical placement, a separate police check may be required at the request of the placement employer. Students will be responsible for all cost associated with obtaining the NDIS Worker Screening Check, Police Check and Working with Children Check, if required checks will need to be obtained prior to placement. To study via blended delivery, students must be working in the industry. RPL Applicants must also: Must have 3 years minimum work experience in community services e.g. case management, counselling, and or case worker but not support workers. RPL applicant has 3 months to provide evidence for all RPL units applied for, if the applicant cannot provide evidence within 3 months, this will be considered as RPL could not proceed. RPL application will not be ACWA accredited. To study via blended delivery, students must be working in the industry.
Expected Time to Complete
2 Years