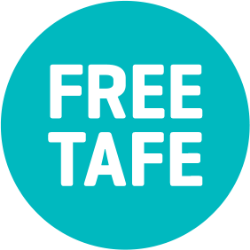 Award Course
This training is delivered with Victorian and Commonwealth Government funding
Overview
This qualification applies to a learning and assessment environment, where access to structured on the job learning in a workplace may not be available. This qualification is only for delivery in learning institutions. The qualification is intended for people interested in exposure to an engineering, or related working environment, with a view to entering into employment in that area. This qualification will equip graduates with knowledge and skills which will enhance their prospects of employment in an engineering, or related, working environment.
Careers
This qualification is not linked to a specific job. It either imparts background skills and knowledge required for entering an industry or provides a particular focus that can be applied to jobs across a range of industries and occupations.
Pathways
Further training pathways from this course include Certificate III in Engineering Fabrication Trade and Certificate III in Engineering Mechanical Trade.
Course Delivery
This course is delivered on a part- time basis in the classroom. Course delivery information for VETDSS students only: Courses are delivered at SuniTAFE each Friday as per the VETDSS schedule. Students will be required to attend each week, during the school terms, from the 10/02/23 to 27/10/23. Costs will vary between programs and the invoice for the program costs including tuition and materials, will be sent to your home school. This course is currently in transition; the course code, title, units and content may change in the future and further information will be provided upon enrolment and/or during the course of your training.
Entry Requirements
Each student will undertake a Pre-Training Review before enrolling, to help confirm the proposed course is suitable. It will provide valuable information about an individuals existing skills and knowledge, language, literacy and numeracy skills and whether the course will help in achieving learning and or employment goals.
Expected Time to Complete
13 Weeks