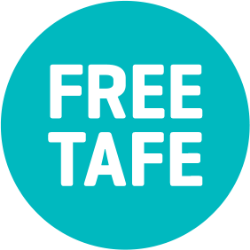 Award Course
This training is delivered with Victorian and Commonwealth Government funding
Overview
This qualification provides a pathway to the primary trades in the construction industry, with the exception of plumbing. Trade outcomes are predominantly achieved through an Australian Apprenticeship and this Certificate II allows for inclusion of skills suited for entry to off- site occupations, such as joinery and shopfitting, as well as carpentry, bricklaying and other occupations in general construction. This Certificate II is designed to introduce learners to the recognised trade callings in the construction industry and provide meaningful credit in a construction industry Australian Apprenticeship. The qualification has core unit of competency requirements that are required in most Certificate III qualifications. The elective options are structured to allow choice from areas of trade skills, as an introduction to a range of occupations.
Careers
This qualification could lead to employment in the construction Industry.
Pathways
Certificate III in Carpentry and Certificate III in Cabinet Making apprenticeships.
Course Delivery
Classroom- based and employer- based trainee delivery available.
Entry Requirements
Each student will undertake a Pre-Training Review to help confirm the proposed course is suitable. It will provide valuable information about an individual's existing skills and knowledge, language, literacy and numeracy skills, and whether the course will help in achieving learning and or employment goals. Students are required to meet with a teacher from Building and Construction prior to enrolment to determine their suitability for the course.
Expected Time to Complete
1 Years