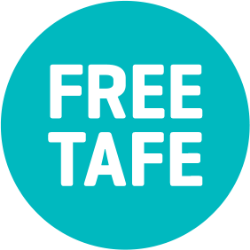 Award Course
This training is delivered with Victorian and Commonwealth Government funding
Overview
This course is intended for people seeking to work in the early childhood education and care sector. It provides the skills and knowledge required to assist in the design and implementation of the curriculum and care programs, in early childhood education and care services. It will supply all the necessary understanding of how to work with learning frameworks so that upon implementation, they meet the requirements of the education and care services National Regulations and the National Quality Standards. On completion of this course you will be capable of providing quality education and care for the social, emotional, physical and learning needs of infants and young children.
Careers
Early Childhood Educator.
Pathways
Diploma of Early Childhood Education and Care.
Course Delivery
Swan Hill - Flexi and Trainee delivery. Mildura - Classroom based delivery. To be eligible for the award of CHC30113 Certificate III in Early Childhood Education and Care, learners must successfully complete 18 units/modules. Course is completed over 2 years of study. Assessor will meet with student for progress and unit completion meetings every 4 weeks for 2 hours. 240 hours placement in a regulated Early Childhood Service is required to complete course, including hours with children aged 0-2years and 3-5years. All electives chosen must support the overall integrity of the AQF level of tis qualification and contribute to a valid, industry-supported vocation outcome. Elective units mush be selected from the elective units listed within this Training and Assessment Strategy, and must adhere to the packaging rules. The selection of elective units may depend on: Industry requirements, student preferences and existing competencies. The individual student's Training Plan must meets the packaging rules.
Entry Requirements
Each participant will undertake a Pre-Training Review before enrolling to help confirm the proposed course is suitable. It will provide valuable information about an individual's existing skills and knowledge, language, literacy and numeracy skills and whether the course will help in achieving learning and/or employment goals. Each student will complete an ACER and an exit level 3 is required in reading and numeracy prior to enrolment. Age requirements apply, students must be 18 years of age or older (individual circumstances for students can be discussed and approved by Business Manager). Students must be working or volunteering with permanent hours in a Registered Early Years Service and provide a letter from employer. Each student must be currently working in the Early Childhood Industry prior to enrolment. Each student must gain a Working With Children Check prior to enrolment to complete required practical placements. Student must be able to meet with assessor for 2 hours every 4 weeks for regular flexible study sessions/meetings.
Expected Time to Complete
1 Years