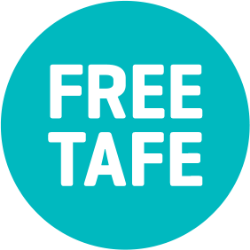 Overview
The Certificate III in Early Childhood Education and Care prepares you to work in the childcare industry. You will gain skills that you can use in a broad range of settings, including home based or centre based situations, where children from infancy to twelve years are cared for by people other than their primary caregivers. You will learn how to provide expert care for babies and children, how to work within the relevant legal and ethical frameworks and all the communication and personal skills you will need to be confident in a busy and complex workplace.
Careers
This qualification could lead to employment as a Child Care Assistant, Playgroup Supervisor, Family Day Care Worker or Child Care Worker.
Pathways
This qualification enables students to pathway into Diploma of Early Childhood Education and Care.
Course Delivery
Swan Hill - Flexi and Trainee delivery. Mildura - Classroom based delivery.
Entry Requirements
Pre-selection interview and a Working with Children Check. Each student will undertake a Pre-Training Review to help confirm the proposed course is suitable. It will provide valuable information about an individual's existing skills and knowledge, language, literacy and numeracy skills and whether the course will help in achieving learning and/or employment goals.
Expected Time to Complete
1 Years