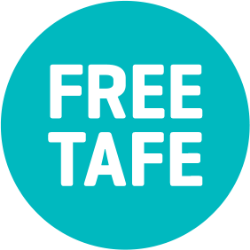 Award Course
This training is delivered with Victorian and Commonwealth Government funding
Cricos Code 093374M
Overview
This qualification reflects the role of workers in the community and/or residential setting who follow an individualised plan to provide person-centred support to people who may require support due to ageing, disability or some other reason. Work involves using discretion and judgement in relation to individual support as well as taking responsibility for own outputs. Workers have a range of factual, technical and procedural knowledge, as well as some theoretical knowledge of the concepts and practices required to provide person-centred support.
Careers
This qualification can lead to positions such as, Personal Care Assistant, Nurse's Aide, Family Support Worker, Residential Care worker, Transport Support Worker, or Field Officer (Community Services).
Pathways
Students can pathway into courses such as Certificate IV in Ageing Support, Certificate IV in Allied Health Assistance and Diploma of Nursing.
Course Delivery
Mildura: This program will be delivered at Mildura campus over a 6 month period with 120 hours practical placement working in a residential facility. Horsham: This program will be delivered over an 18 months period in Nhill with 120 hours of practical placement.
Entry Requirements
Entry requirements for this course are: Must be 18 years of age or turning 18 within 2 months of commencement of course. A completed course application form incorporating a Pre-Training Review. Completion of a Language, Literacy and Numeracy assessment (LLN). Prior to admission of the course, the student must obtain and provide evidence of: A satisfactory Police Clearance Certificate. A satisfactory International Police Clearance Certificate (for International Students Only). A Working with Children Check (only if completing placement in home and community care). Must be an Australian citizen or permanent resident of Australia or hold the appropriate Visa (for International Students Only)
Expected Time to Complete
6 Months