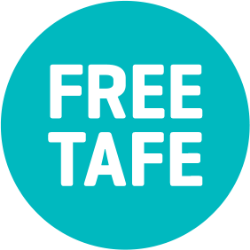 Award Course
This training is delivered with Victorian and Commonwealth Government funding
Overview
This course will provide you with the practical skills and knowledge required to assist teaching staff and provide care and supervision for children, in primary and secondary schools. You will learn how to support the development of literacy and numeracy in a classroom setting, how to deal effectively with children and young people and how to operate confidently and safely in a school environment.
Careers
This qualification could lead to employment as an education assistant, education support worker, language worker, teacher aide, teacher assistant in a school or a community services setting.
Pathways
Pathway into Certificate IV in Education Support or Diploma of Early Childhood Education and Care.
Course Delivery
This qualification is available via flexible delivery, skills recognition or traineeship. There are no on-campus classes for this course. Mildura campus: this program is offered as a flexible mode of delivery with 4 weekly study sessions for 1 hour each. Duration is dependent on the student's progression through the units. 12-18 month's duration – Enrolment can occur at any stage of the year. Swan Hill: Full Time 2 days per week over 12 months.
Entry Requirements
Students should be at least 17 years at the commencement of study. (exceptions at Business Manager's discretion). Students must obtain a satisfactory Police Clearance Certificate and Working with Children check prior to placement commencing. Each student will undertake a Pre-Training Review before enrolling to help confirm the proposed course is suitable. It will provide valuable information about an individual's existing skills and knowledge, language, literacy and numeracy skills and whether the course will help in achieving learning and/or employment goals.
Expected Time to Complete
18 Months