SuniTAFE SMART Farming - Horticulture Training & Innovation Hub

Developing the people of today into the workforce of tomorrow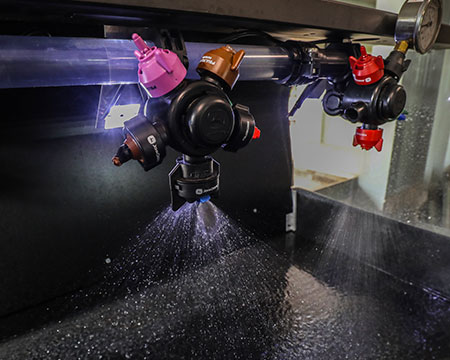 The horticultural industry is diverse and central to the national economy. Horticulture in Sunraysia alone is forecast to double over the next 10+ years and job prospects are increasing in the sector….but jobs in farming aren't what they used to be.

While traditional labour skills are still required to operate farms today, we are now at a cross roads between industrial-era farming and SMART Farming. These farms of the future will use automation, robotics, driverless tractors, drones, data and technology to make horticulture farming more efficient and productive.

A typical work day on a SMART Farm will be spent on decision-making, data analysis, machinery management, or even robot coding - all with the touch of a hand held device.

The SuniTAFE SMART Farm is preparing this new generation of tech-savvy growers. Our students will be capable of precision-based farming that uses broadband services, mobility and a range of measurement, monitoring and management technologies to control systems from mobile devices.

SuniTAFE is incorporating the latest cutting edge technology, automation, innovation and practices into horticultural training as early as 2021.

It's time to take a fresh look at SuniTAFE and careers in horticulture. We welcome you to join with us as we transform the horticultural training model.
Our Vision
To be the leading trainer provider in SMART horticulture farming, combining best practice with cutting edge technology to develop the people of today into the workforce of tomorrow.
Our Mission
Train an efficient and skilled SMART farming workforce that can rise to meet current demands and proactively contribute to the future requirements of the horticulture sector.
Provide accessible support, trials, networks, information, skills, education and training to horticulture farmers to facilitate a move away from industrial era practices towards a SMART farming model that utilises automation and technology.
Deliver skills, training and education to improve the capability of the horticulture industry to manage resource and environmental constraints, while sustainably increasing production, and producing more with less.
Our Philosophy
We invest in training people in SMART farming equipment, technologies and best practice processes, preparing a future-ready workforce to enable productivity and efficiency improvements for horticulture farmers, and creating a growing movement of farm workers with skills to transform the sector for social, economic and environmental gain.

Download our SMART Farm Prospectus