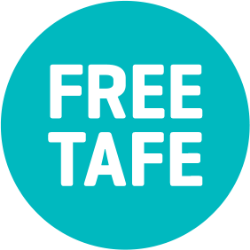 Award Course
This training is delivered with Victorian and Commonwealth Government funding
Overview
This qualification reflects the role of community service workers who design and deliver person-centred services to individuals and/or groups. Workers may provide support, advocacy or interventions to individual clients, groups or communities across a range of services. At this level, workers may be autonomous with limited responsibility within established parameters and may be required to supervise and lead other workers in projects or teams. Work may take place in a range of community service, casework or case management contexts.
Careers
Aboriginal Health Education Officer, Community support worker, Domestic Violence Worker, Women's Health Educator, Case Worker (Community Services),Outreach Officer, Aboriginal Intake and Referral Worker, Early Intervention Homelessness Worker, Peak organisation worker, Community Education Worker, Welfare Support Worker, Court Support Worker, Support Worker (Community Services),Information and Referral Worker, Personal Adviser, Health Education Officer, Community Legal Officers, Welfare Rights Worker, Tenant Advice and Advocacy Worker, Family Support Worker, Phone Advice Worker.
Pathways
Pathway into the Diploma of Community Services.
Course Delivery
Classroom based delivery. Students are expected to study and complete research and projects in their own time as well as class time. Flexible based delivery. Monthly 1.5 hour session with teacher plus time for practical assessment tasks where required. Mutually agreeable times and dates with student and teacher are to be negotiated at the commencement of study for each student. Student will be required to attend 2x 6hr days classes for the HLTAID011 Provide first aid unit. Days and time will be provided to students at the commencement of study. Both campuses offer on the job, Traineeships - Enrolment can occur from January through to December. This course is currently in transition; the course code, title, units and content may change in the future and further information will be provided upon enrolment and/or during the course of your training.
Entry Requirements
Each applicant will be required to undertake a Pre-training Review before enrolling to help confirm if the proposed course is suitable. It will provide valuable information about skills, knowledge, language, literacy and numeracy skills and whether the course will help in achieving learning and employment goals. Applicants must be at least 18 years old to enrol in the course. Trainees must have a registered training contract agreement with their employer.
Expected Time to Complete
12 Months