School Involvement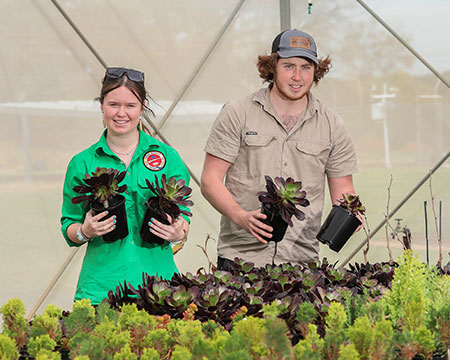 SuniTAFE welcomes secondary students to see the future of farming and new careers in horticulture at the SuniTAFE SMART Farm.

The SMART Farm offers site tours, special events, topical talks and demonstrations to involve students of all ages and showcase the range of new career options in horticulture. These activities will shift perceptions of farming jobs, ignite new career aspirations and emphasise links to STEM studies that can lead to challenging and lucrative careers.

Following consultation with schools in the region, SuniTAFE is also coordinating an approach that will bring SMART Farm innovation projects and partners directly to students on their own school grounds. Creating direct and equitable access for students of all ages will encourage an awareness of emerging careers and job prospects across horticulture and its supply chain affiliates.
Our schools program will:
Introduce new farming technology and innovations through hands-on learning
Create onsite opportunities to work on the SMART Farm
Develop knowledge about the variety of study areas that link to the farming industry
Increase pathway knowledge for students aiming for tertiary outcomes
Increase awareness of job prospects in the agriculture and horticulture sector
Engage students in larger SMART Farm projects and learning opportunities
Develop industry partnerships for work experience placements