Our Apprentice & Traineeship Training Facilities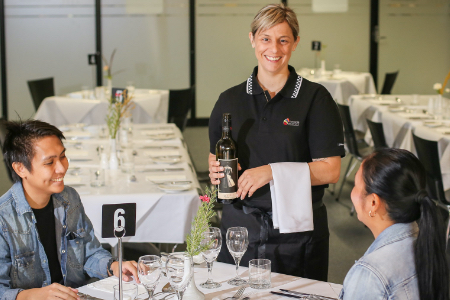 SuniTAFE's Mildura and Swan Hill Campuses have dedicated trade workshops and learning spaces fully equipped with the latest tools, technology, machinery and vehicles to enhance and support practical training experiences.
Hospitality
The Hospitality Department at the Mildura Campus boasts two commercial kitchens and a training restaurant which is open to the public. The facilities include commercial ovens, dishwashers, coffee machine, stoves, slicers, stick blenders and servery spaces. You can gain practical experience and skills which forms part of the assessment for front and back of house courses.
Building and plumbing
Dedicated building and plumbing workshops are equipped with tools, technology, workbenches, equipment and practical spaces including a sandpit and building frames/roofing.

Light Automotive and Engineering
Light automotive and engineering workshops are equipped with tools, technology and equipment including:
Test lane, wheel alignment, scanning tools, tyre changers, MIG and TIG welders, Computer Numerical Controlled machines including CNC lathes, CNC machines, CNC plasma cutting machine.
Heavy Automotive
SuniTAFE has a long history of training for this sector, beginning delivery from the Swan Hill Campus in 2000. Due to delivery at capacity in Swan Hill, SuniTAFE formed an industry working party to establish heavy automotive training in Mildura. After successful consultation and industry support, a dedicated training space opened at the Mildura Campus in 2020. The workshop boasts the latest technology and equipment including: common rail diesel diagnostic system, medium-duty Isuzu FVD 165-260 Auto truck, DD13 470HP Detroit diesel engine.